Fantus Paper Products - P.S. Greetings Inc.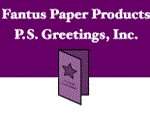 Fantus Paper Products - P.S. Greetings Inc.
5730 North Tripp Ave
Chicago , IL 60646
United States

773.267.6150
773.267.6055
---
A company with over sixty years of industry experience, Fantus Paper Products has grown to be one of the largest national manufacturers of greeting cards and stationery products. Originally opening its doors as a boxed card manufacturer, Fantus Paper eventually grew to form a subsidiary company later named P.S. Greetings, Inc. which produces a multitude of individually-sold rack cards. Both companies have successfully defined themselves by maintaining a strong presence with competitively priced, creative items. The many years of hard work show in a faithful customer base as Fantus Paper Products continues to proudly offer "Made in the USA" products at an effective and economical price.
Business Address
5730 North Tripp Ave
Chicago , IL 60646
United States

Phone
773.267.6150
Fax
773.267.6055
Business Categories
Holiday & Seasonal
Business Type
Dropship
Minium Order Requirement
Annual Sales Volume (USD)
Warehouse Size (sq ft)
Showroom
Business Hours
Total Employees